NEW ERA OF FABRICS
Tencel is increasingly the fabric of choice for ethical and sustainable clothing brands like ourselves. It's light and versatile, and is widely used in casual clothing.
Firstly, Tencel® is not a name for a new fiber or fabric, but it's actually a trademark for a type of lyocell or modal. These are natural cellulose fibers found in wood pulp from certified Eucalyptus tree farms. 
Tencel is soft as silk, smooth to touch and strong fiber
Created by Austrian textile company Lenzing AG, Tencel is soft as silk, smooth to touch, strong and durable fiber with a beautiful drape. Tencel® fibers are more breathable and less susceptible to odorous bacteria growth, making them ideal for activewear. That's why they have become the go to fabrics for many ethical and conscious clothing brands.
CERTIFIED AS BIODEGRADABLE
This all sounds great, right? Wait, there's even more to it. Tencel® fibres are certified as compostable and biodegradable, and in the right conditions can fully revert back to nature.
Even its manufacturing process doesn't cause much harm – Tencel® textiles are created through the use of nanotechnology in an award-winning closed-loop process that recovers or decomposes all solvents and emissions.
CLOSED LOOP PRODUCTION
Lenzing AG sources its wood and pulp from certified and controlled sources like sustainably managed plantations. The certified biobased fibers are manufactured using an environmentally responsible production process.
The solvents used to turn the wood pulp into fibre are made using petrochemicals. However, the closed loop production process, means that the solvent is recycled over and over again to produce new fibres and minimise harmful waste. Lenzing Group says the solvent recovery rate is 99%.
Manufacturing Tencel requires less energy and water than cotton.
Lenzing AG was presented with a European Award for the Environment from the European Union for developing this closed loop process.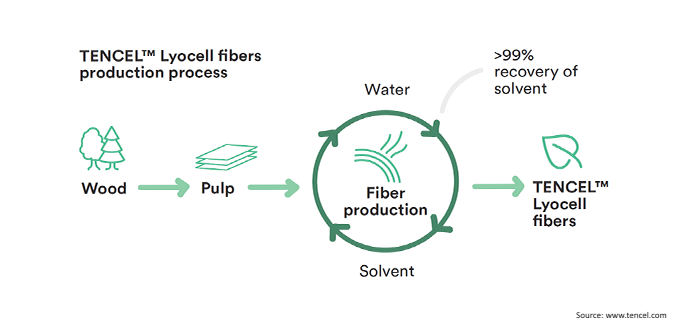 Some of our styles made of Tencel™